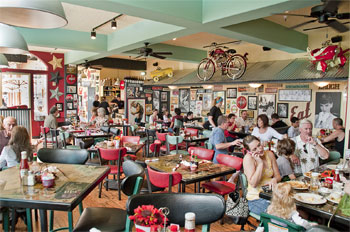 KC's Downtown Grill KC's Downtown Grill is a popular local hot spot on the beautiful Windsor Town Green, with expansive menus that appeal to every appetite and a fun, exciting, nostalgic atmosphere.
KC's Downtown Grill has "quite possibly the biggest and best breakfast in Sonoma County." And with eight different kinds of Eggs Benedict (served daily, not just on Sundays!), three different types of Potato Pancakes (try the Denver Potato Cakes) as well as crispy Belgian Waffles, Chicken Fried Steak, and amazing omelettes, there is definitely something for everyone at KC's Downtown Grill.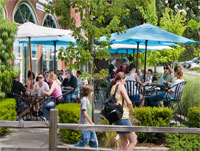 Enjoy the incredible view of Windsor's famous Town Green and dine on our huge patio under Windsor's ancient oak trees. Our beautiful patio is available for rent for private parties for 40 or more. We also provide catering for all events including business lunches and box lunches.

Our customers say KC's Downtown Grill has the best burgers around! Half-pound, charbroiled & juicy, no one leaves hungry after a KC's burger! We're also told we have the "best french fries EVER!"
And for those who love salads, KC's makes a salad look like art!! Our salads are made fresh to order from the best ingredients available.
For dinner,
KC's
is the best place on the Green! Friday and Saturday nights are Prime Rib nights! Served from 4:30 til we run out. Slow-roasted for 8 hours in a special oven, our boneless prime rib is truly the best in town!
Our Big Fish & Chips can't be beat. All white-meat Icelandic Haddock in a crunchy batter. Almost as good as in Downtown London, the birthplace of Fish & Chips. Or try our "I Love Animals" burger and the "Belly Burner Burger." For a real adventure, take a hike up our Tri-Tip Mountain, the tallest entree this side of the Rockies! And every Wednesday at KC's Downtown Grill is Ribeye Wednesday: A juicy, charbroiled ribeye steak for a chunk of change less.
You can download the breakfast menu and the lunch & dinner menu in PDF to print out and have on hand, as well as our sweets, starters and drink specials menu... all accessible here from the links, or visit our menus page.